Lady Rockstars Launches on a New Platform!
Lady Rockstars Level Upped!
We have a rad new site with some features you will drool over.
***If you are already a member make sure you create a NEW LOGIN on the new website so we can transfer over your membership.
NEW LAYOUT
This new layout makes finding a new song/technique to learn on guitar or bass a breeze! Every week I upload new songs! Right now you have almost 100 choices.
DISCUSSION BOARD
The discussion board feature will allow us to connect somewhere outside of Facebook (I know y'all are over Facebook as much as I am). You can request songs here, talk gear, discover new music, or just shoot the shit with other women and non-binary players.
NEW GUITAR VIDEOS NOW HAVE CHORD OVERLAYS
and a more professional look. You can see what chord we are playing without referencing the .pdf!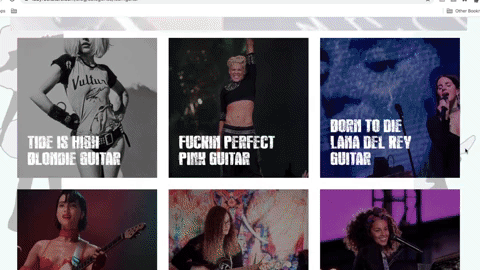 BASS VIDEOS NOW HAVE TAB OVERLAYS
It makes it easier to play along and you still get .pdfs and links to the tabs to play on your own!
THE SITE IS SEARCHABLE
You can now search by typing in what you are looking for or clicking tags on the video posts to find related content
WE HAVE MERCH!
The zip up hoodie is so comfy, y'all!
Go check it out and quit looking at the gif spasms already! It's only $12/mo. You get the first 7 days free. What do you have to lose?
We also bought some new domains that take you to the same place. Try them out!